here are 116 of them 58 regular sized, 58 small sized. I'm not going to post all of them here, because that will make your computer go insane. So I put them all on my Photobucket. You'll see two of the same animations, but one's 250 X 141 and the other is 320 X 180, so whatever will work best for you guys. I'm going to make animated icons tomorrow or the next day, I've worked on these for 6 hours, so I kinda need a break. I did almost every scene, not all of the performance scenes, mainly because their prolonged vocal parts or they're repetitive. Other than that every scene is included.
If you use any please, please credit
straightedgeaz
, it took me a long time to make these, and when I find these all over the place without proper credit it's really discouraging. If it continues I'm going to have to start tagging all my animations and I really don't want it to have to escalate to that point.
Here are a few samples:
Regular size:
Larger Size:
More Misc. Samples: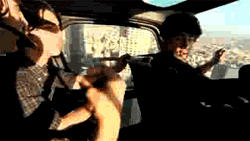 THE REST ARE LOCATED AT http://s253.photobucket.com/albums/hh64/PoorRockerJoBros/My%20Creations/Tonight%20Video%20Animations/
Current Mood: accomplished
Current Music: Tessie- The Dropkick Murphys